Safe UV and Reactive Species levels only with the Adtec SteriPlas
As a leading medical device company, the crucial balance of safety and clinical efficacy are a top priority. We are always conducting tests to demonstrate the approved safety and reliability of the Adtec SteriPlas but to also learn new ways to improve the use of cold plasma in medicine.
Our clinical studies already validate the safety of the Adtec SteriPlas, including its low-level UV and reactive species produced from the cold plasma. These two components are imperative for the physical destruction of bacteria, however, too much of a good thing can also be relatively damaging like that observed with cold plasma jet/pens and battery powered cold plasma devices.
Measured across multiple distances, the UV light produced is well below the ICNIRP limit of 30 J/m2 and the reactive species produced are well below the occupational limits set by NIOSH and UK HSE. The Adtec SteriPlas continues to be one of the only cold plasma medical devices that puts patient and user safety first with no reported side effects and promising clinical efficacy from every treatment conducted.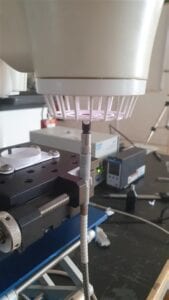 For more information about the Adtec SteriPlas, send us an email at info@adtecplasma.com