Leading Cold Plasma medicine with the SteriPlas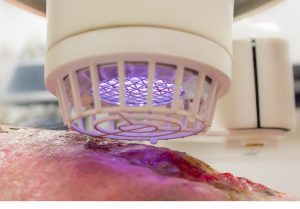 The SteriPlas produces a repeatable, reliable, and highly efficacious Cold Plasma that has been proven in clinical trials and studies to destroy bacteria protected deep within biofilm.
Regardless of the resistance profile of bacteria, whether they are Gram-negative or Gram-positive, the physical mode of action of the SteriPlas Cold Plasma ensures the destruction of bacteria at the site of infection. This is particularly beneficial for difficult-to-treat or non-healing wounds such as diabetic foot ulcers, sternal wounds and LVAD infections. Where biofilm typically complicates the treatment options for these infections, the SteriPlas has been shown to fully heal patients even if they were not responding to antibiotic treatment to begin with thus saving limbs and lives.
All of this is achieved with the reputable safety of SteriPlas with no side effects reported.