Dr H. Rotering presenting SteriPlas DSWI efficacy at Herzmidizin 2023 conference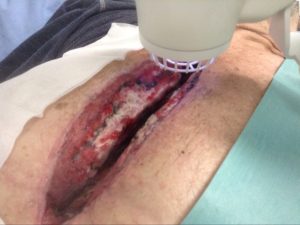 Dr Heinrich Rotering will be presenting at the Herzmedizin 2023 conference on 14th February 2023. His presentation, "Tissue saving – Plasma based treatment concept for sternal infection including one year follow-up" will show the benefits of our SteriPlas cold plasma medical device for the treatment of deep sternal wound infections.
The benefit our cold plasma device has for these chronic wound infections is the ability to give a deep penetration treatment allowing plasma coverage over the wide infected area. As our medical device is the only microwave-powered, argon cold plasma device with a wide 12cm2 treatment size and is contact-free, the overall sessions are quickly completed. The mean wound healing for deep sternal wound infections is 16 days with the SteriPlas.
Contact us at info@adtecplasma.com to learn more about the SteriPlas.