Adtec Healthcare celebrates yet another RCT publication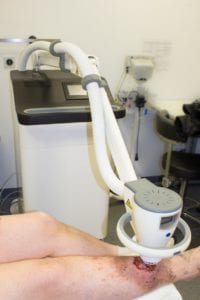 Adtec Healthcare celebrates another prospective, randomized and placebo-controlled trial (RCT) publication featuring our cold plasma medical device for the treatment of chronic wounds. The clinical trial conducted at the Essen University Medical Center in Germany and led by Professor Joachim Dissemond discusses the strong benefit of using the Adtec SteriPlas to treat chronic wounds. This is our first RCT measuring wound healing rates with respect to overall wound size using cold plasma.
The study consisting of three groups (Group 1 – plasma 1x/week, Group 2- plasma 3x/week and Group 3 – placebo 1x/week) shows the significant wound size reduction when using cold plasma vs placebo. Not surprisingly, Groups 1 and 2 led an astonishing 63.0% and 46.8% reduction in wound size for chronic wound patients, whereas Group 3 (placebo-treated) patients had increased in wound size by 17.5% larger.
The full publication can be viewed here: https://onlinelibrary.wiley.com/doi/epdf/10.1111/ddg.14294
The rich data of the RCT further demonstrates why our cold plasma medical device, the Adtec SteriPlas, continues to lead the way for cold plasma medicine by accelerating healing in non-healing and problematic wounds with the strong advantage of no side effects. The use of the Adtec SteriPlas is simple – a quick supplement to your standard treatment program for your patients.
Contact us at info@adtecplasma.com to learn more about our medical device and how to obtain this in your clinic.